Disposal Bins Rental in Vancouver
 Vancouver dumpster bins, The following Disposal Bin Chart will help you decide what waste bin dumpster would be the best Orange Bin for your  disposal & garbage removal project. Serving Vancouver, West Vancouver, Burnaby, New Westminster, Port Moody, Coquitlam, Port Coquitlam, North Vancouver, Richmond and surrounding areas in the Lower Mainland, either of the following disposal bins can be delivered the same day.
 ALL Bin size and volume are approximate
Disposal Bin, Dumpsters and Garbage Bin Sizes

 Size/Dimensions 

 Orange Bins Disposal 
 5 Yard Bin
 10' X 6' X 2'
  dirt, soil, rock, concrete, asphalt & brick
10 Yard Bin
 10' X 6' X 4'
 drywall, junk, wood, garbage, waste disposal, house hold
 12 Yard Bin
 12'X 8' X 4'
  roofing, drywall, rubbish removal, clean up
 16 Yard Bin
 12' X 8' X 5'
  green waste, reno debris, junk, wood, clean out
 18 Yard Bin
 11' X 8' X 6'
  yard waste, renovation rubbish, garbage, disposal 



20 Yard Bin

12' X 8' X 6'

 wood, household junk, branches, construction.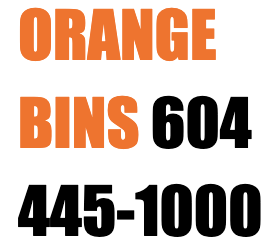 Quotes
For more information on delivery or rental of Disposal Bins in Vancouver, contact us using one of the methods below.
Phone: 604-445-1000